Types of Roofing Materials
SERVING VANCOUVER WA AND PORTLAND OR
---
Roofing Materials
The structure of a roofing system is vital to the integrity and durability of your roof. By choosing the right material, roofing system, and roof installation company, you can ensure your roof will last for years to come. Legit Exteriors works exclusively with Owens Corning to provide our customers with the best roofing materials available.
Legit Exteriors and Owens Corning
We are proud to have earned the distinguished honor of Owens Corning Platinum Preferred Contractor. We are certified to offer their roofing system guarantee, meeting their strict standards for professionalism, reliability, and unparalleled craftsmanship. When you choose Legit Exteriors, you know you're getting the best in roof installation services! With Owens Corning Surenail® Technology, installation is an easier process, guaranteed to be successful. When combined with their roof ventilation system and roof underlayment, their triple-layer roofing shingles are unbeatable.
Roof Ventilation
The best way to increase the longevity of your roof is to reduce heat and moisture buildup. With proper ventilation, a building can maintain adequate airflow underneath the roof, preventing roof deterioration and ice damming. You may even be able to reduce your energy costs! Roof ventilation is an essential step in any roof installation.
Roof Underlayment
Even with the right shingles, moisture can become a problem with any roof. That is why the installation of underlayment is such a crucial step in protecting your home. When you add an underlayment, your roof will be twice as effective at repelling water, ensuring that your roofing system will endure and continue to perform. The underlayment goes under your shingles, protecting the structure of your building. This is a crucial step in any roof installation. Your roof will perform and withstand better against the elements, protecting your building from the rainy, windy weather here in the Pacific Northwest.
Roofing Material Options
The final step to every roof installation is choosing the correct roof shingle or roof material. Legit Exteriors works with you to determine the most efficient, cost-effective, and attractive solution for your roofing system. Below you'll find a quick overview of your roofing shingle options.
Have a Question or Need a Free Estimate?
Leave your information below and we will contact you in 30 minutes or less. After hour inquiries will be followed up on the next business day.   
Metal Roofing
Incredibly durable, metal roofing has become increasingly popular in the Pacific NW, due to our consistently wet and windy weather. In some cases, a metal roof can also reduce energy costs.
Composite Roofing
Affordable, low-maintenance, and widely available. Also known as asphalt shingles, composite shingles are typically blended with fiberglass or cellulose materials. This option provides you with a plethora of different color and design options to perfectly match your home.
Flat Roofing
Most flat roofs can last up to 25 years, with the proper care and maintenance. Flat roofing technology has never been better, and we're experienced in the best and newest flat roofing methods.
Slate Roofing
Heavy, durable, and more expensive than other roofing materials. Slate has additional costs for maintenance.
Wood Roofing
Naturally efficient because of their thickness and insulation properties, these shingles can cut down on energy usage. Steep prices and additional upkeep costs limit the popularity of this option.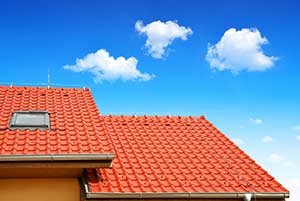 Tile Roofing
For certain angled roofs, tile or clay roofing is unmatched in its durability and insulation capabilities.
Choose Legit Exteriors for Roof Shingle Installation
The team at Legit Exteriors understands that home renovations can be a stressful endeavor. That is why we focus on providing our clients with the very best of everything, from customer experience to quality craftsmanship. A project is only complete when the client is satisfied with our work. Let us craft the perfect roofing system for you–contact us today!
Types of Roofing Materials in Portland OR and Vancouver WA
Serving Customers in Oregon and Washington:
Portland | Gresham | Happy Valley | Clackamas | Milwaukie | Mt Tabor | Belmont | Sherwood
Beaverton | Tigard | Hillsboro | Cornell | Sylvan | Cedar Hills | Downtown Vancouver | Fruit Valley | Hazel Dell | Felida | Cascade Park | Camas Washington